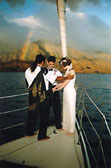 Wouldn't this be a wonderful way to, say, renew your vows on your tenth wedding anniversary? I'm tossed between two extremes. Cold winter snow and Christmas lights and warm sandy beaches.
Silver Dollar City Branson Christmas wedding at the Wilderness Church. We've been here before when the lights are up and it is really an amazing sight to behold. Here's a picture of the outide of the church. On the inside, the wall (from what I remember) has a huge window that overlooks the beautiful Ozark Mountains.
Then there's the Maui Wedding. The pictures are breathtaking. Our anniversary is December 22, so really, I could go either way. We've got 2 more years until our 10th.
I've never been to Hawaii. Maybe Malia will throw an invitation my way. 😉