Yesterday we had our driveway plowed into a hill for sledding. I was reliving my childhood and wanted Zane to experience some of the best memories I have of growing up. My dad used to have a snowplow on his truck and winters were way more snowy than they have been lately. I remember dressing up in my snowsuit and going with him. He'd drive up and down the streets of our city, people would run out of their houses waving money and flagging him to their snowed-in houses. He'd plow, my brother and I would shovel. We had a blast!
Our house was the epicenter for all things fun in the winter. Dad would pile up snow with the plow as high as our house then shovel steps into the hill. He's smooth out the other side of the hill and sometimes pour water down the smooth side for that extra speed. All the kids in the neighborhood would converge at our house and we'd be out there for endless hours.
With the piles of snow Dad would plow at neighbor's houses, we'd tunnel out forts and stock them with piles of snowball ammunition. We'd then embark upon the biggest snowball fight of the winter. Every winter things got better and more elaborate.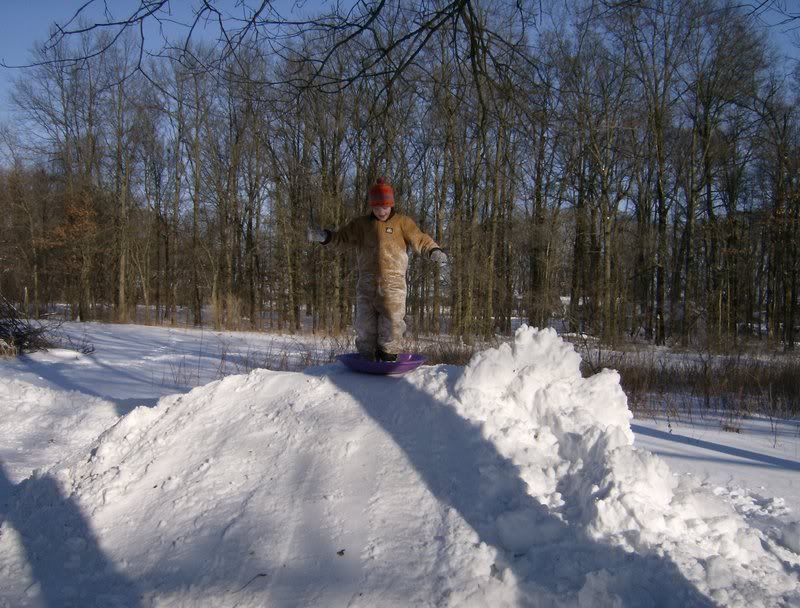 Phil, Zane and I played out in the snow yesterday and made some of those memories. One that stands out for me is depicted in this picture. Zane yelled out, "Mom! Look at me! I'm going to snowboard down!!"
Phil and I looked at each other with eyes bugged out. Phil said, "Well. I didn't know he had it in him."
"Neither did I."
But he did. All I could think of was my high school bud, Eric Grusak.
This is the Eric I remember hanging out with. Totally Punk, but one of the best guys ever. He was always so sure of himself and more than that, he could motivate you and help you to believe you could do it. Do what? Whatever. It didn't' matter.
I remember games of tackle football where the guys were always content to let me be quarterback, a few of them liked my spirals so well, they pleaded with me to join the team. I would have, but the school wouldn't let me. (figures) I also remember building floats for the Homecoming parades. Some days, no one showed up except Eric, Stanley and I. But the three of us got things done.
I ran into Eric on MySpace a bit ago. We've been emailing, I found out he's a professional snowboarder now! So yesterday, when Zane, without prompting, decided he was going to snowboard, I thought of Eric.
I dropped Eric a line and found out over the weekend he scored BIG! He's now the National Divisional Champion for overall freestyle! Wow. Can you imagine? Congrats Eric!!! Here's what the National Divisional Champ had to say about Zane, "That's AWESOME. He's got great form.if he wants a real snowboard,just let me know. Flow makes snowboards that would fit your little ripper."
My adrenaline is pumping thinking of Zane as a professional snowboarder. Makes me want to train so I can get out there!
Funny how we never know what God is going go put in our path and even more fun is how these things come to pass. I have no clue what the future holds for Zane, but I know that I'm excited to find out.