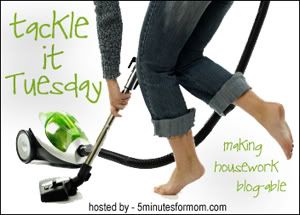 I don't know if I've ever tackled my sideboard and homeschool shelf? I might have been too embarrassed but with the Christmas Tree in July tackle, there's no shame left.
So here's my sideboard before.
No. That's not an Easter basket. Don't be ridiculous!
Yeah. I'm lying. It is. But hey, it got put away faster than the Christmas tree!

My sideboard after:
Huh. The picture and sconces aren't exactly centered with the sideboard. I looked and the picture is centered on the wall. The sideboard is moved over a bit because of the homeschool shelf. Maybe I need to do some adjusting? Or not. Do I really care that much?
Here's the sideboard and homeschool shelf. I forgot to take a before photo of the shelf.
Phil loves that clock. I don't like it so much. It goes with his liberty bell lamp.
I'll show you some day.

And here's the box of no-longer-used homeschool goodies for the garage sale next month.
Yes. I rock. I even priced everything as I put it in the box.
Can you compete with that?
See all of my tackles
here
.