Chronologically speaking, I'm not doing well here and I'm going to have to back things up a bit. Most of the story I've told has been from 2005 until now, but there's a pretty big event that I skipped right over, it was what put me in the hot seat.
There's so much backstory that its hard to really know at this point what is important and what's not. Uncle Ed was only thirteen years older than me, he was my big brother that I didn't have. When mom and dad got married, they bought a house across the alley from Grandma and Uncle Ed and I spent the majority of my childhood there because my grandma spoiled me. She bought me Cocoa Puffs and microwave chicken patties and took me to the bowling alley on her league nights and let me have all the Coke and fried mozzarella sticks I wanted on top of giving me pocketfuls of quarters to play Ms. Pac Man. Uncle Ed and his buddies treated me like the kid sister. In one of his old yearbooks, all his friends signed messages to me. I was two at the time. I remember one said, "Give me smoochies, Michelle" because I'd toddle around kissing all my big brothers. I wish I had that yearbook now. Most of them were at the funeral and I miss them.
I wasn't a very nice kid growing up and I caused my parents dump trucks full of problems. I don't know why. Can you imagine me…being rebellious? Ha! I haven't ever been able to deal well with rules, its something that is just in my blood, something that makes me fight to break out. When I'd fight with my parents I'd go to grandma and Uncle Ed's. But the time I started driving, Uncle Ed had married and moved, so I'd drive to his house. I'm pretty sure I spent more time at his house than I did my own. Aunt Tammy had to go back to work weeks after Andrew was born and they paid me to come straight from school to their house to watch the boys, Frank was a toddler and Andrew, newborn. Uncle Ed worked midnights and slept from the time I got there until it was time for him to leave and then Aunt Tammy would come home. I can't remember how long I did this, but it seems like it was quite awhile.
I moved to Missouri in March of 1995 and Uncle Ed's third son, Kyle was just a little tyke. The week after I left home for the first time, Kyle was admitted to the hospital for a rare blood disorder and I got a call that I might have to come home for a bone marrow transplant if no one else matched. I was mortified that I was 600 miles from home, there wasn't anything I could do. Things worked out, Kyle's a teenager now and healthy as ever, but I still have a hard time with the whole not being there thing.
Zane was born late in 1999 and I wasn't clear on what religion I was and Catholic ritual says you baptize a child around six weeks of age. So I told Phil that I thought I should do it, otherwise I'd never hear the end of from my grandmother. This was the first time Phil and I had spoke of God, religion, denomination, etc…it didn't go well. At.all.
Phil refused to be part of it.
His grandmother, Grandma Barnes, wanted to meet my family so she drove with me to Indiana for the Christening and Phil met us there (he was driving the semi). I think the only reason Phil came was because Grandma Barnes was there and I often wonder if that's why she asked to come with me?
Phil refused to even come to the church. Uncle Ed stood in Phil's place. I understand now why Phil was so dead-set against the Christening, but I didn't then and that's a story for another day.
When we moved back to Indiana in 2000, we lived with Uncle Ed for maybe a half a year or so, I really don't recall exactly how long it was, but I loved being with him and the boys. I had missed them so much the six years we were in Missouri.
By 2004, which is the year I'm trying to get to for this event that was so pivotal in the story, Phil and I had bought a house about an hour from the rest of my family. Uncle Ed's downward spiral had started maybe in the previous year or two? Until September 2004, I was pretty unclear and had just heard stories of him acting strange and taking a lot of over-the-counter Rx narcotics.
He'd have withdrawls, which none of the doctors or hospitals saw for what it was. Sometimes I wonder if my brother, sister-in-law, Phil and I were the only ones to see things clear? Uncle Ed would take a ninety day script of Vicodin in just three or four weeks and shortly after develop "symptoms" uncontrollable shakes which he said was nerve pain. Please don't think I'm crass, cold or unsympathetic to his actual pain. Uncle Ed did suffer a horrible accident and several complications, and I know in my heart, he did have pain. However, I'm convinced that his shakes were not nerve related. They were the direct result of coming off of highly addictive narcotics. This is the kind of stuff I learned in September 2004.
It was a big weekend for our family. My cousin Jen was getting married! You know how Catholics love weddings, it was something all of us were looking forward to. In telling this story now, I realize that no one in the family really knows what happened that night except me. Uncle Ed didn't feel good. He didn't want to go to the wedding and told my mom he was going to stay home, my mom called and told me.
My stomach sank and a feeling of dread like I've never known wrapped me up and squeezed, breathing was difficult. I told my mom I wasn't going to the wedding either, I said it before I even knew the words were coming out of my mouth. I don't think she really thought it was necessary for me to stay with him, but I knew if I didn't he'd be dead. I saw it as she was telling me he was staying home, but I couldn't tell her that.
After a phone call to Uncle Ed, I was on my way to pick him up, he'd stay a couple days at my house. He'd just had something–a surgery, a hospital stay, I can't remember, but he wasn't released to drive, although he made short trips to the grocery store, etc…so it wasn't like he was completely disabled. Insisting that I be in control of his meds, I took charge. Things were already at a point that some of the family was aware he was abusing his medication, but from my perspective, no one really seemed to do anything. He handed over the pills willingly and we had a great talk, about God even, on the drive to my house. He started to dose off towards the end of the hour trip, so I let him sleep.
Phil had dinner ready when we got to our house and we ate together and talked, Phil had to work five in the afternoon until five in the morning, so he left shortly after Uncle Ed and I arrived. On our property is a place we have huge bonfires. In the summer and fall, Phil and I often have a fire and sit with a glass of wine for me, a beer for him and watch the fire, the stars, listen to the frogs, and talk. Uncle Ed wanted a bonfire and I thought it would be a great opportunity for us to relax and talk, but it was too early to start the fire. He asked if he could get on our riding lawn mower because it was relaxing for him and his yard was so small he couldn't enjoy the wide openness of the country. So of course I let him. Figured it couldn't hurt anything.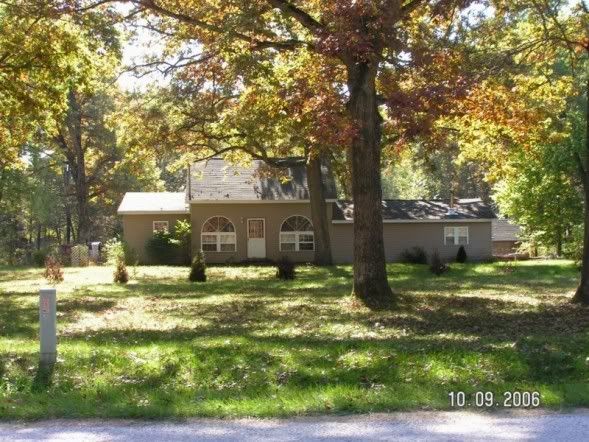 He didn't even make it around the yard once. This is the best picture I have to help describe the scene. Just to the right, where the tree is cut off in the picture…there's a telephone pole. If you look at the road in this picture, you can almost tell there's a ditch between the road and the yard, but it doesn't look that deep, the picture is kind of deceptive. Anyway, right before the telephone pole, Uncle Ed crashed the riding lawn mower into the ditch and was hanging over the steering wheel, unconscious.
More tomorrow.