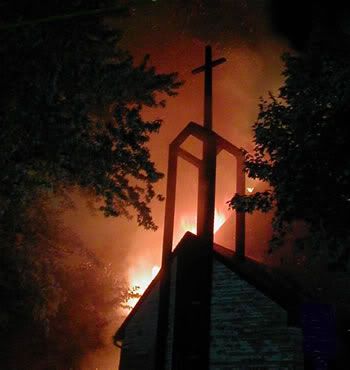 *A note before you read this. After doing an audit of my blog in 2022, I have decided to leave content that speaks to the Christian I was at the time this was written. I no longer identify as Christian (and haven't for a very long time.) I chose to leave these posts because it is who I was then and it is important to me to be honest and true with every iteration and evolution of self that I experience. I may decide to add comments to the end of posts like this as well
I realize this subject is probably getting old. (That's if you're still with me on it) Even so, it seems like I've got issues to work out concerning the many facets of the situation.
Let's recap. I had a trusted pastor friend who basically (short version) didn't like the way I recalled my dreams and told me God doesn't use dreams anymore. I have come to the understanding that God doesn't use dreams to tell us about Himself or things to come, however, He can and does use dreams to teach lessons or give insight. Can Satan influence dreams? Sure. Can they be "of Satan" if I give them to God? I say no, because of the verse, "Greater is he that is in than he that is in the world."
What's this got to do with sleep deprivation and psychosis? "Child development researchers and other scientists have long observed that babies deprived of touch [tactile stimulation] are more likely to fail to thrive–and even die. The late Dr. John Bowlby's classic studies of infants raised in stark orphanage nurseries in Britain after World War II showed that babies deprived of a caregiver's loving touch more often than others failed to thrive and died. Dr. Bowlby called this "skin hunger"–a baby starving for cuddling, stroking, and holding." Article Here.
I wonder, are dreams to mental health what touch is to survival?
If I had the money, the degree, and the resources, I'd be pursuing this with passion. Studies have shown that without sleep (thus without dreams) people either display psychotic behavior or they actually become psychotic. Is that just like those babies? The infants who were not touched failed to thrive or died.
Satan knows what the Bible says. I'd be willing to say that he probably knows the Bible better than most Christians (if not all.) When Satan tempted Jesus in the garden, he used Scripture. This is so powerfully important and I've heard very little about the impact that has on our daily lives.
I said yesterday, I'd explore how I saw God's hand in all of this conflict and chaos. I think it all centers around what I've learned about God.
In 2 Chronicles chapter 32, we see King Hezekiah's illness, pride, wealth, works, and death. At the end of verse 31 we read, "God left him to test him and discover what was in his heart."
Romans 12:5 says that God has distributed a measure of faith to each believer.
In James 1:2-4 we read, "Consider it great joy, my brothers, whenever you experience various trial, knowing that the testing of your faith produces endurance. But endurance must do its complete work, so that you may be mature and complete, lacking nothing."
God gives each believer a measure of faith. In order for faith to produce, it must be tested by various trials so that the believer may be mature and complete. God tests our faith to discover what is in our hearts.
Repeatedly, I heard from my pastor friend that Satan's plot in this conflict is confusion. He also told me that it was ironic that just about the time God is going to do an "explosive work" at that church, something like this conflict occurs. He said that the devil wanted to make a turn in the road. My pastor friend told me all about Satan and what Satan wanted and how Satan worked.
I never once heard from him how God was working. I find that disturbing and sad. I couldn't count the hours I've spent in prayer and study during this situation. I begged and pleaded with God for His wisdom in this.
The pastor said this, "This [situation,] given proper patience, prayer, and submission, will become a blemish in history not a turn in the road the devil wants to make it."
My take on it–from my heart–is that Satan deserves no glory. There is One and only One who deserves recognition. The Lord my God.
There are so many layers to this conflict, so many whose hearts were tested in so many ways. I choose to focus on myself because I have access to the inner workings of my mind and thoughts and to pretend that I understand what lesson God wants someone else to learn or how He tested another would be foolish.
What I know–what I want to give God the glory for are the lessons He taught me.
I trusted someone else's direction for my life (the pastor's) instead of trusting Him. God was trying to show me that I didn't belong in the position the pastor appointed me. I thought Satan was trying to discourage me from being involved in women's ministry at that church because Satan doesn't like ministry. Sounds logical enough. It did at the time, anyway. I've learned that God was trying to get my attention by not furthering the ministry. I couldn't hear Him, though, because I was too busy focusing on what the pastor was saying and by giving Satan glory.
I allowed myself to be deceived into believing that people who go to church know what God wants. I thought God must want me in women's ministry if His shepherd put me there. This one hurts the most. I blame no one except for myself. The pastor appointed me Director of Women's Ministry and I grabbed the job and ran with all my might. That is not what God had for me. And instead of asking Him, I just assumed that His shepherd knew what He was doing. Oh how foolish of me!!
I thought that God's people should approve of God's call on my life. Now this was just stupid of me to believe. I look back and think that if I'd only have paid attention to (for example) the story of Moses, I'd see that God's people don't always know or approve of what God wants.
I thought others should understand what God was asking of me and I thought it was my job to make them understand. Again, stupid. See Moses again.
I'm still learning from this conflict. I questioned God when it first started, but now I'm finding joy in the trial. I'd rather focus on the fact that God is testing my faith to discover what is in my heart and to increase the measure of faith He gave me.
Now…what's the burning church all about? You'll have to come back tomorrow to find out. (Ok, so I thought I was done. I'm not!)